SellMart Will Pay Cash for Cars in Mesa AZ
About SellMart
SellMart is a reputable junk car buyer, in Mesa Arizona, whose sole aim is to buy your car. If you are interested in cash for your cars in Mesa, SellMart is prepared to buy. A quick call to our number at (877) 227-7741 will begin the seamless process of selling your car, with the result being your clunker car off your hands and money in your pocket. Please note that SellMart is only looking to buy your cars, we do not sell them.
What Cars Does SellMart Look to Buy?
SellMart seeks to purchase cars ranging from classic to brand new, and junker to race-ready. We buy cars that are damaged, broken, old, running, or not. Did your car not pass the smog test? No problem, SellMart can make you a cash offer. One of the only reasons we could not make you an offer is if you have no title. No matter the condition, as long as you have the title, we are prepared to make you an offer.
What Benefits Do Customers Receive When They Sell To SellMart Cash For Cars in Mesa?
No more headaches from Craigslist ads or dealership trade-ins: with SellMart there are no fake offers from strangers or being hustled by a car salesman.

A local service provider with an office right in Mesa: you won't have to worry about making a trade-in over the phone when SellMart has an office nearby.

We can come to you: Why waste your time driving to multiple car lots when SellMart can send one of our certified auto buyers to purchase your cars for cash?

We even take care of junk car removal: Don't stress about how you are going to get your car to us, because included with our amazing services is free towing of your car.

We buy cars in almost any condition: finally get around to selling your damaged car, because SellMart will buy your car for cash in Mesa.

Deal with a trusted and cooperative company: we have the experience and will walk you through all the annoying paperwork that comes with selling a car.

Zero obligation quote: there is no risk to you when you inquire about our services. After you call, SellMart will make you an offer. If you like it, you can accept it. Otherwise, you can just be on your way.

Friendly staff ready to assist you with your car recycling needs: when you call us you are presented with a friendly staff member who can help to answer any questions you may have about our car buying process.
SellMarts' Stress-free Process for Cash for Junk Cars in Mesa
Step 1. Begin by calling SellMart at (877) 227-7741 and provide our skilled staff with some information about the vehicle you wish to sell. Step 2. SellMart then uses its calculated process to formulate a cash offer for your car. (See below for how our process works) Step 3. If you accept the proposal, we send one of our staff members to look at the vehicle and pay you in cash. We will handle all the paperwork with you. It's as easy as that.
How Does SellMart Formulate an Offer for Your Car?
A few things come into play here when we formulate a bid on your car. First, SellMart takes into account the make, model, year, mileage, and condition of your vehicle. Factors including if the car is damaged or not running will affect the price. Additionally, if the car is older, the price will certainly be less than a newer car. Of course, there is the exception made for some classic cars that may be worth a lot as well.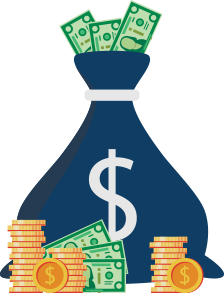 Why Work With Us?
Sell Any Car Free Towing Fast & Friendly
We are open 7 days a week!