Here's What We Do
Put quite simply, we buy cars in La Mesa. It's a quick and easy process, and all it takes to get started is simply giving us a call or filling out our contact form. If you have a used car in La Mesa that you need to get rid of, start and finish the deal with us today. This is how it works.
The Process
Give us the details on your used vehicle by calling us on the phone or filling out our easy-to-use contact form.
We will then give you a price on your car that day.
If you accept the given offer, we will come to you and give you cash for your car.
Don't worry about the transportation of your car, even if it doesn't run! We schedule towing for the vehicle, often on the very same day it is sold to us.
That's it!
As you can see, there's no better option to get cash for cars in La Mesa!
Let Us Help You
Selling your car alone can be a difficult process, as there's so much to consider that the average person just doesn't have time for. You shouldn't have to worry about questions such as:
How much should I sell my car for?
Am I getting the best deal for my car?
Is my junk car worth anything?
Where can I get cash for cars in La Mesa?
Will anyone buy my used car?
Luckily, we have a team of experts that can take care of all of that for you, so that you can feel confident about selling your car.
Better Than the Classified Sites
Instead of using online classified sites, let us help you get rid of your used, junk, damaged, or non-running car in the La Mesa area. We offer a frictionless process, and often purchase cars on the same day that people call us. It is a quick and painless transaction, where we give you the price for your car over the phone right away. Or, if that option doesn't work, you can fill out our contact form to get a price on your car instantly. Don't hesitate to contact our team and get started.
Why Work With Us
Let's face it: there are so many people looking to take advantage of car sellers. With this being the case, don't sell your car by yourself. We're with you through the entire process so that you can avoid sketchy car buyers and have the peace of mind that you got a great deal for your car. We buy cars in La Mesa and provide all of our customers with genuine offers and expertise in offering cash for junk cars.
We Take Care of Junk Car Removal in La Mesa
After customers agree to the price on their car, given to them over the phone or through our contact form, we take care of the rest—they don't have to do anything! When an agreement is made, we come to them and give them the cash for their car, no matter the condition. Towing can even be scheduled for the very same day! Who knew getting cash for junk cars in La Mesa could be so easy?
Reputable Service You Can Depend On
If you have a used car that you need to get rid of, we realize that it is in your best interest as a seller to do so as quickly and painlessly as possible. The team at SellMart is knowledgeable and efficient, prepared to help you with any car. We pride ourselves on getting junk cars out of your sight, and putting cash in your hands. Your car will be gone so fast, you'll wonder if it was damaged at all!
Get Cash for All Kinds of Cars, No Matter the Condition
We'll take cars off your hands, and put cash back in them! This includes cars in any condition, such as:
nice cars
damaged cars
non-running cars
junk cars
cars that fail emissions tests
cars with salvaged title
As you can see, we can help you get rid of any kind of vehicle no matter the condition, so don't worry about getting your car to a junk yard in La Mesa. Let our team do it for you!
What Are You Waiting For? Get a Quote Today!
A clunker takes up space in your driveway, your mind, and your life. With SellMart, you can get your car out of the way and be on your way to the bank in the span of one day. With the most experienced team in providing cash for cars in La Mesa, we'll take any car off your hands, in any condition, and you won't have to worry about anything going wrong. Call or contact us today!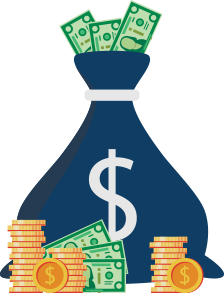 Why Work With Us?
Sell Any Car Free Towing Fast & Friendly
We are open 7 days a week!