Want to Turn an Old Car into Cash? Sell it with SellMartCash for Cars: Ramona
What is SellMart?
Do you have an old car? Are you too busy to make the time in your schedule to try to sell it yourself? Do you have an old clunker you would like to get rid of without paying for junk car removal? Are you wary about dealing with strangers on the internet or in junk yards or dealerships?Well, if so, you are in luck. Cash for Cars in Ramona is here to help turn your unwanted car into cash.SellMart is a junk car buyer in Ramona, and we buy damaged cars in return for money.
What Requirements Does Your Car Need to Meet?
You may be wondering what requirements your car needs to meet to be bought by us, but luckily, Cash for Cars in Ramona accepts a wide range of vehicles in various conditions. You can earn money for your car, running or not, no matter how old your vehicle is, or what it looks like.
We accept cars:
With no title
That are damaged
Of any age
With any number of miles on it
That do not pass the smog test
That do not run No condition is off limits, so do not be afraid to give us a call and hear our offer.
How Do We Price Your Car?
Cash for Cars in Ramona uses a myriad of factors to decide what price to offer you for your preowned car. This includes:
Make of the car
Car model
Year the car is from (older cars are worth less, unless it is a classic car, in which case it will be worth more)
Condition the car is in (though we buy cars of any condition)
We will take all of these factors into consideration before making you a no-obligation offer for your vehicle. If you are not happy with our offer, you are free to walk away.
Why Choose SellMart?
There are many reasons to choose SellMart: Cash for Junk Cars in Ramona to sell your old vehicle to. At SellMartour goal is to make things easy for you. We offer free towing, so that you do not need to go through the hassle of moving the vehicle yourself. You will not have to worry about dealing with strangers on Craiglist; we will have one of our professional staff members come purchase and remove your car for you. We guarantee that this will be a fast and painless process for you. We will do our best to make your transaction as quick and easy as possible, so that you can get rid of your unwanted car by turning it into cash.
How to Get Started
If you have made the decision to utilize SellMart's Cash for Cars services in Ramona, we applaud your great decision making. You can call us up at (619) 202-5700. We guarantee that you will be helped right away by our amazing and friendly staff who are waiting to assist you. Our staff will offer you a no obligation quote on your old vehicle. This means there is absolutely no risk to contacting us- if you are not happy with our offer, you are free to go on your way with no consequences. If you decide to accept our offer, a staff member will come take a look at the car, handle all of the paperwork for you, and pay you in cash right then and there. It's as simple as that! So don't hesitate to reach out to SellMart Cash for Cars in Ramona, we are looking forward to working with you.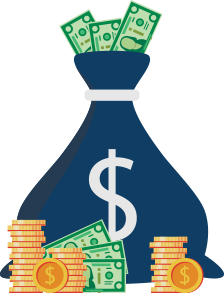 Why Work With Us?
Sell Any Car Free Towing Fast & Friendly
We are open 7 days a week!